Wine Country & Sequoia Redwoods & Gourmet Lunch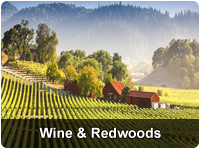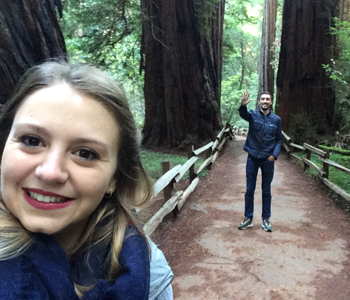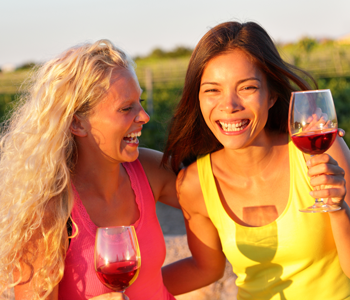 Duration: 8 Hours (approx.)
Location: Sonoma, California
Discover the most complete Wine Country & Muir Woods Tour, combining two of California's top attractions: Redwoods and wine. See what makes our tours a cut above the rest!
Our Redwoods & Wine Country tour offers our guests an amazingly unique experience, we get you into Muir Woods before the crowds and maximize your time in the park. We also are the only Woods & Wine tour to visit both Napa Valley & Sonoma Valley wineries and to included all wine tasting fees. These are just a few of our tour highlights that outshine the competition. Discover the difference for yourself.
With the new upgrade option, you can now take your wine country experience to the next level by indulging in an exclusive three course gourmet food and wine experience. The combination of delicious food paired with a collection of local wines in the renowned Sonoma Plaza will truly be a one of a kind experience. Check out the menu - tasting fees, lunch, tax, and gratuity all included!
Wineries Extranomical Visits – For over a decade Extranomical Tours has been creating amazing memories on our Wine Country tours from San Francisco. We've partnered with quality wineries, which offer the best California Wine Country experience for our clientele. The wineries we visit on our Muir Woods and Wine Country tour provide complimentary wine tasting for our groups. We visit a range of wineries that are boutique and family-owned to large and grand, but they must have a friendly atmosphere, and offer beautiful scenery, quality wines and good value.
Extranomical Tours partners with a great combination of wineries in both Sonoma County and Napa Valley for our Muir Woods and Wine Country Escape tour. All wineries offer a variety of local wines and a personalized experience no matter what day you go on the tour. Wineries may change based on availability but you will always experience a warm wine country welcome at each stop! We make sure that the wineries provide a relaxing setting as you indulge in crisp and fine wines and take in the exceptional views of California Wine Country.
Madonna Estate, located in Napa's Carneros appellation, has been in production for over 80 years and hand-crafts a bevy of organic wines from Pinot Grigio and Cabernet Sauvignon to Riesling and Dolcetto. Cline Cellars is a quaint, boutique winery nestled in the Carneros region of Sonoma. They offer delicious Rhone varietal wines and classic California Wine Country style. Mayo Family Winery was founded in 1993 and the family believes that single vineyards produce the highest quality and enjoyable wines.
Discover our Redwoods & Wine Country Tour - We maximize the time you spend in Muir Woods National Monument and allow guests to enjoy the trails before the crowds. Explore the Coastal Redwood Sequoia groves in Muir Woods, home to the tallest tree species in the world. You'll spend an hour enjoying California's native flora and fauna, taking in giant ferns, moss-lined creeks, fresh bay leaf scented air from the many Laurel trees and squirrels, blue jays and deer if you're lucky.
A brief drive North and you'll find yourself in California's renowned Wine Country. Spend a relaxing afternoon wine tasting, strolling the vineyards and learning about the practice of winemaking. Our Wine Country tour makes 4 tasting stops: 3 wineries and 1 at the historic Sonoma or Healdsburg Plaza spending 45 minutes to 1 hour at each location.
It is at this historic Sonoma plaza where youcan enjoy an optional gourmet cuisine paired with local wines in a comfortable private seating. The gourmet food and wine pairing will complete your wine country adventure by giving you a chance to test your newly gained wine knowledge and enhance your tasting experience. Make sure you book the Gourmet Upgrade for this experience!
We are the only Muir Woods and Wine Country tour that visits both Napa Valley & Sonoma wineries! All our wine tasting is complimentary and you'll be able to taste a wide variety of amazing wines. The Wine Country plaza stop lasts about an hour, so you'll have time to grab a bite to eat and visit a few more tasting rooms located around the plaza or join a three course gourmet lunch. We'll provide you with a map of the plaza and must-see local shops and tasting rooms to maximize your time.
On the journey back to San Francisco we'll make one last stop at a scenic look-out point with sweeping views of the Golden Gate Bridge, San Francisco bay and city skyline, Alcatraz and the Bay Bridge.