Muir Woods Expedition & Sausalito AM with Ferry Bay Cruise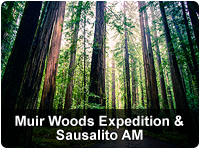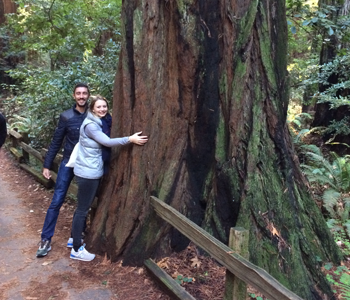 Duration: 8 Hours (approx.)
Location: San Francisco, California
Muir Woods Expedition & Sausalito Tour
Our Muir Woods Expedition & Sausalito Tour from San Francisco starts off with a complimentary hotel pick up in San Francisco and a photo stop at the Golden Gate Bridge. This is the Muir Woods & Sausalito tour that spends the most time in the forest! For up to two hours, you'll be gazing up into the forest's canopy, surrounded by Coast Redwood.
The main trail has a boardwalk and runs along the shadowy Redwood creek. There is a half hour loop, a one hour loop, and a one hour and a half loop. Of course there are longer trails that extend into surrounding parks, but the tallest Redwoods grow along the main trail, as it is at a lower elevation and the trees receive enough water from the creek. Other trails are pretty steep and require at least half a day to complete.
Don't get a sore neck, these are some of the tallest trees in the word! Make sure you also appreciate the sights and smells down on the ground. During December, the heart of the Salmon breeding season, you may even get to see Salmon forging their way up stream to spawn and end their life cycle! In May it's a race against time as the fingerling salmon hurry to get out to sea before the reducing water flow allows the waves to close off the mouth of the creek.
Take it easy and stroll along the mostly flat valley floor along Redwood Creek, or get an aerobic workout climbing the paths up the valley slopes so you can look out at the tops of some of the tallest trees in the world. Then head to Sausalito to see the seaside city and drop off those who will take the ferry back to San Francisco.
Ferry Bay Cruise option: Upgrade your Muir Woods Expedition & Sausalito Tour to include a ferry bay cruise ticket, where you will take the ferry from Sausalito to San Francisco after your Muir Woods tour. You'll get to enjoy the stunning San Francisco waterfront. Spend time to explore the quaint seaside town of Sausalito and maybe have lunch there before you make your way back to San Francisco. Please check ferry departure times to make sure you catch the last departure back to the city.
5 tips to make the most of the Muir Woods hike:
1. Discover the main trail as all the attractions are there!
2. Enjoy the tallest trees in the Bohemian Grove
3. Feel the spirit of the woods in the Cathedral Grove
4. Find the Kent Memorial
5. Grab a souvenir at the Visitors Center