Wine Lover's℠ Luxury Wine Country Tour with Picnic Lunch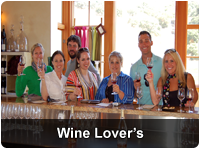 Duration: 8 Hours (approx.)
Location: Napa, California
Get VIP treatment on Extranomical's Wine Lover's Wine Country Tour. Onboard our luxury vehicle equipped with premium captain seats, you will enjoy additional rear A/C for extra comfort, extra head room, and a quality sound system.
You don't have to be a wine connoisseur to enjoy this Wine Lover's Tour; simply a fresh and eager palate will suffice. Our Wine Lover's Luxury Wine Country Tour is a small group, luxury tour that visits Napa Valley, Sonoma Valley, or in some instances, both. You'll be able to visit wineries large and grand as well as boutique and family-owned wineries that are off the beaten path of large tour buses.
Your guide will carefully pre-select the first two wineries for you, making sure you learn about the wine making process first-hand from winemakers'. By special arrangement, we have organized a unique in-depth tour of a wine cellar, a cave or barrel room. You even get a chance to take part in a unique barrel tasting! These carefully sourced wineries sell only on site -- you'll not find their wines at retail. Later, enjoy a picnic lunch at a winery, arranged by your guide, with sandwiches, wraps and/or salads! In the afternoon, continue your luxury experience and visit two more unique wineries. We would like to hear what kind of wine you like to taste and appellations you like to visit so that we can arrange the stops according to your preferences. Your guide has a wealth of knowledge and experience in the Wine Country and can help your tour group navigate the wine regions, as well as suggest wineries that offer the best experience based on your preferences. Think of them as your personal wine country concierge; they are there to make your wine tasting experience remarkable!
Let us know what kind or wine and appelations you like. If you email us at contact@extranomical.com, we will let the guide know. Please note that most wineries charge a wine tasting fee of $20 to $40.